5 Common Workplace Injury Claims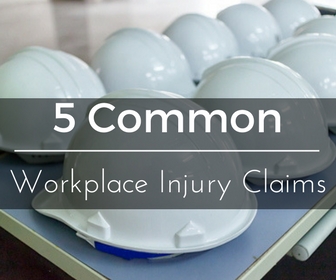 Nobody goes into work in the morning expecting to be injured on the job. Many employers allocate large percentages of their budgets to educating employees on job safety and preventing workplace injuries. Unfortunately though, the possibility for an accident is ever-present. According to recent statistics from OSHA, more than 4,500 people are killed on the job each year in the United States, with over a million injuries sustained.
Some of the most common types of worker's compensation injuries include:
Overexertion
The most common cause of an overexertion injury is from lifting, pulling, pushing, or throwing something repeatedly, resulting in injury. Pulled muscles and overextended joints are the most common injuries in this category, and are often seen in labor-intensive workplaces like factories or construction sites. According to the Department of Labor, overexertion is the most common workplace injury.
Trip and Fall
A majority of trip and fall accidents are the result of employees slipping on wet floors or walkways in the workplace. Security workers, store clerks, and groundskeepers are among the most heavily affected by this injury type.
Falling from Height
As opposed to a trip and fall, falling from height typically happens when a worker falls from a ladder, roof, or down a flight of stairs. Roofers, construction workers, and those who work in multi-story buildings are at the highest risk of this type of injury.
Falling Object Injuries
Something dropped by another worker from above or that falls from a shelf and strikes somebody can cause serious injuries. Head injuries like concussions are a common result of this type of workplace incident. Employee diligence and a focus from the employer to keep their work environment hazard-free can go a long way towards preventing these.
What Can We Do?
With over two decades of experience, the BCN Law Firm will do everything possible to get you the compensation you deserve. If you've fallen victim to a workplace-related injury, the BCN Law Firm in Clermont wants to help. Contact us today at (352)-394-2103 to schedule your complimentary consultation.